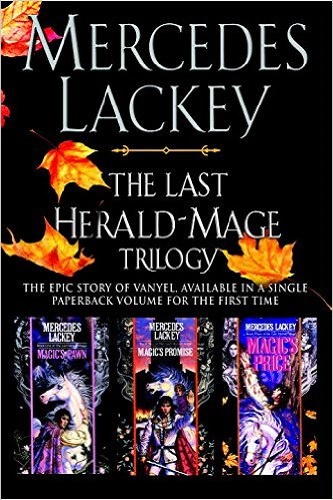 The Last Herald-Mage Trilogy—three groundbreaking, Lambda Award-winning novels that established Mercedes Lackey as a fantasy tour-de-force and her Kingdom of Valdemar as a place millions of readers return to again and again.
This Lambda Award-winning trilogy tells the story of Vanyel, persecuted and abused son of a Valdemaran noble, who finds acceptance at Haven when he is Chosen by the Companion Yfandes. Companions like Yfandes are magical horse-like beings with the power to communicate and bond with their Chosen, and trigger the potential for psychic abilities—and magic.
But Vanyel discovers other things about himself at Haven as well…. He discovers love in an unexpected place, and loses it, and nearly his own life. With Yfandes and his aunt, Herald Savil, he will travel to the home of the mysterious Hawkbrothers in search of healing and training, and will grow from a troubled and heartbroken Trainee to become the most powerful Herald-Mage in the history of Valdemar—and the one hope for Valdemar against an implacable foe bent on eradicating magic from the Kingdom entirely.
Check Out What Readers Said about Kindle/eBook!
"This is another of Mercedes Lackey's CAN'T PUT IT DOWN stories. It is set in the very early days of Valdemar, when magic is still in use, and some Heralds are able to tap into it. The last Herald-Mage, Vanyel, is shocked into his powers by a tragic event, that I won't describe, since it is the key to the rest of his life. " By Sheila Ary
"I bought these books a LONG time ago when they were fist published. I believe I even bought the hard covered version. Then I bought them again when they came out all together in one large hard covered book – I still have that. Now I've bought them a third time for my Kindle. Did I like them??? I loved them. They are a well read – well loved group of books for me." By Redread
Product Details
Author: Mercedes Lackey
Kindle Price: Paperback $13.23
Series: Last Herald-Mage
Paperback: 880 pages
Publisher: DAW (February 2, 2016)
Language: English
ISBN-10: 0756411386
ISBN-13: 978-0756411381
Product Dimensions: 6 x 1.8 x 9 inches
Shipping Weight: 1.7 pounds (View shipping rates and policies)
Average Customer Review: 4.8 out of 5 stars See all reviews (63 customer reviews)
Amazon Best Sellers Rank: #307,947 in Books