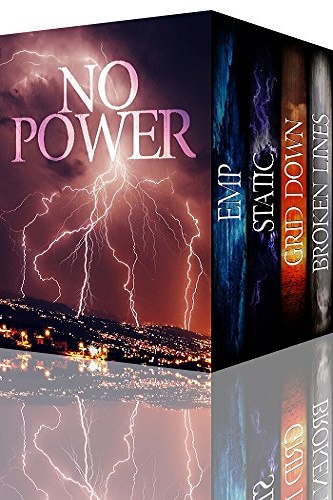 Dystopian masterminds J.S Donovan, author of "EMP No Power," Roger Hayden, author of "Grid Down," and James Hunt, author of "Broken Lines," which have collectively accumulated 250+ five-star reviews, come together in this SUPER BOX SET for the first time!
Within twenty-four hours, America turns from the world's power into a crumpling mess. Against unshakable odds, Harper Murphy, army quartermaster and single mother, combats the tides of chaos in this deadly post-EMP struggle.
The thin thread holding the civilized world together has been severed. Millions of citizens have been thrust into the unknown, breeding fear into the minds and souls of those seeking to survive. Wren Burton, an architect from Chicago, has been engulfed by the chaotic aftermath of an EMP blast. Her family is injured. The enemy is unknown. And help is nowhere to be found.
Check Out What Readers Said about Kindle/eBook!
"A few of the stories are average at best, but the last three are superb. I will be finding more works by the last author as soon as possible" By amber simmons
"it would have been better if the author had proper nomenclature for the equipment used in the book. Very uneducated on the weaponry and I think a little far fetched on the lack of equipment at times. More research on the next set of books would be great. Story line is good" By Rick
Product Details
Author: J.S. Donovan
Kindle Price: Kindle —
File Size: 1896 KB
Simultaneous Device Usage: Unlimited
Publication Date: January 16, 2017
Language: English
ASIN: B01MTA4RL3
Text-to-Speech: Enabled
X-Ray: Not Enabled
Word Wise: Enabled
Lending: Not Enabled
Enhanced Typesetting: Not Enabled
Amazon Best Sellers Rank: #1,441 Paid in Kindle Store